A high-quality gas block is one of the most important components for a custom AR build. Whether you're shooting a suppressed .300 Blackout pistol, a long-range 6.5 Grendel rifle, or a classic AR-15 in 5.56×45… ODIN Works has an adjustable gas block for any project. The ODIN Works .750 Adjustable Low-Profile Gas Block has many features that make it unique among its competitors.
Features:
It's machined from a solid block of carbon steel for additional strength versus cast gas blocks. This gas block features a durable Black Nitride finish and it weighs just 2.10 ounces overall. The adjustment screw and detent spring are made of a special super-alloy known as Inconel. ODIN Works manufactures the gas adjustment screw and detent spring out of Inconel because of its ability to handle high pressures and extreme temperatures. The gas adjustment screw offers 20 individual settings, with no set screws needed to hold it in place. Instead, it utilizes a ball detent, spring, and set screw.
Reviews:
Tyler K. from The Truth About Guns says: "As I've come to expect from ODIN, this was a well thought out and well executed piece of gear. I had zero issues installing or adjusting it. Many months and several hundred rounds later, it still looks and functions great."
With over 100 reviews at the time this was written, all of which have a 5 Star rating, it's hard to go wrong with this gas block. Not to mention the AR15 Discounts Satisfaction Guarantee. The AR15Discounts.com satisfaction guarantee means that if you're not happy for any reason, you can send it back within 30 days for a full refund.
NOTE:
This ODIN Works gas block has a .750" inch inner diameter which is the standard size for most medium, M4, or HBAR type barrels. Be certain that you measure the gas journal of your AR barrel for proper fit. Please reference the picture below for the area to measure.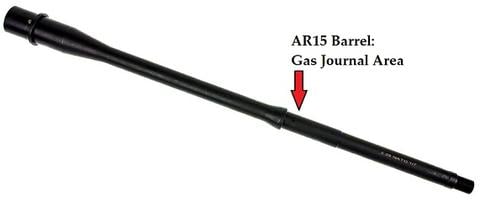 Includes:
.750″ inch Gas Block

Inconel Alloy adjustment screw and spring

Detent ball, cross pin, set screws

hex wrenches included
Technical Specs:
20 separate adjustments possible
Fits .750″ diameter gas journals
2.10 ounces overall weight
Carbon steel construction
To Disassemble for Periodic Cleaning: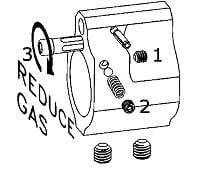 1. Loosen set screw #1
2. Loosen and remove screw #2.
3.Carefully remove spring and detent ball.
4. Remove gas adjustment screw #3.
5. Soak in cleaning solvent.