The Strike Industries Glock" all-in-one tool features all appropriate sizes of pin punches, sight removal tool and base plate removal key in one compact unit'strong>. What makes us stand above the rest is our base plate opener function; users no longer need a complicated tool to open their magazine base pate; this tool will allow you to open the base plate in T-3 seconds. This tool features a compact design creating ease of storage while it's all steel construction will stand up to any abuse derived from wear and tear or just being tossed into a range bag. Light, efficient, and convenient; it compliments any serious Glock" owner.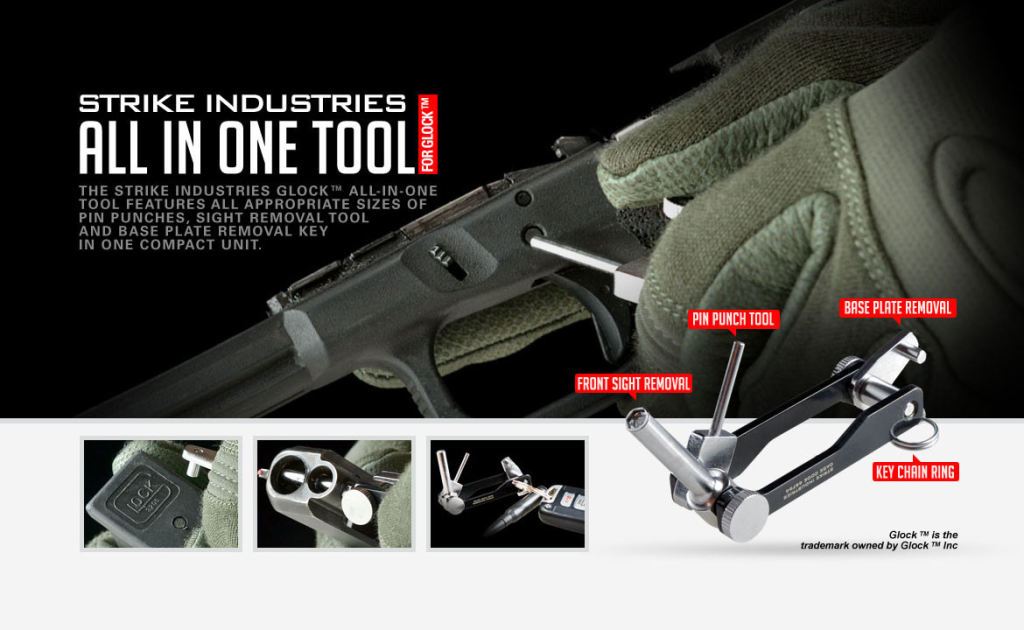 Product Spec
– Length: 2.85″
– Width: 1.16″
– Height: 0.48″
– Weight: 2.6 oz
– Materials: Steel
– Color: black and chrome
Package include
-1 x All in one tool for Glock
Features
– Glock" Base Plate Removal Tool
– Pin Punch Tool
– Front Sight Removal tool
– Compact folded design
– All steel construction
DISCLAIMER: This product is not manufactured, authorized, endorsed, or warranted by GLOCK. GLOCK does not warrant or represent that this product is compatible with GLOCK pistols.